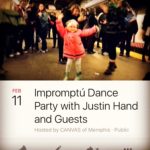 Last minute events can be lots of fun – lots of work too but worth it when you get to spend the time with fellow djs that you have known for years. Case in point – "Impromptu! dance party with Justin Hand & Guests". Saturday, Ficus Tree label owner Jeff Gonzalez aka Service was in Memphis (for unfortunate circumstances) and we roped him in to come throw down with us, myself and "Soul in the City" front man Brian Hamilton, aka Dj Irie, at Canvas. Lorin Vincent (DJ Saturna) was also supposed to join us but her son Dash woke up with a 103 fever – family first right? We made the best of it though even though she was missed!
We managed to work it out schedule wise. it was loads of fun and honestly extremely nice not having to watch a door and take money. Although counting it at the end of the night isn't so bad, the freedom of not having to care made all the difference. It was a great turn out and loads of faces to hear us get down on some house. Even I hung up the techno badge for a little soul and vocals. As it turns out there were other things going on that night but it didn't deter us from doing the damn thang. If you missed it, well… maybe next time. As a tribute to those that support, I think a quarterly popup freebie might be in order! We'll have to see, wont we.
Next month…   March 4th at EXILE – i'll be celebrating my bday – plan to party.