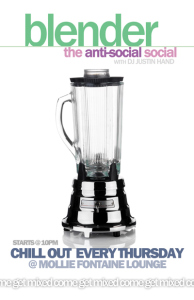 Thursdays are becoming a thing amongst my midtown crew. Chillout is more popular than I expected between me and my cohorts and the environment is perfect. You'll hear selections from Bonobo, Mount Kimbie, Air, Boards of Canada, Massive Attack, Zero 7, CFCF, Tycho and more like it. Lounge at it's best!
If you get a chance and need a little social activity but want to avoid the urban meat market, rooftop parties and frat edm fist pump… then you now know the biz. BLENDER every Thursday – the anti-social social! Mollie's – theMachine and Me.
If you would like a little taste, here is BLENDED Vol.1 – selections from Thursday night (Blended, not mixed!). Enjoy!