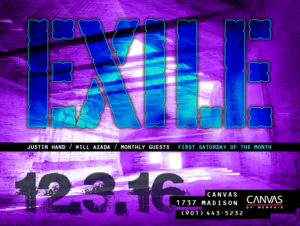 Going from a new weekly to adding on a new monthly, it seems. We put on the first EXILE at Canvas and it went rather well. Lots of new faces along with a nice turn out. We have decided to tack on another show for the DEC 3rd (first Saturday of the month). Still working out the details but hopefully ALEX FALK from Knoxville (same guys to bring me to Birdhouse) will be able to guest spot. The space is small so the sound works nicely and there is a small but adequate space to dance along with plenty of bar space, lounging *couch included as well as a patio for smoking and social shenanigans.
The spot hosts plenty of artwork from local aspiring as well as accomplished artist from the mid-south area. Pretty swank little place. The first edition on the 5th was Will and I's first official joint venture. We worked well together anyways but this worked out nicely because we switched off each hour then got to tag towards the end, also allowed enough space to give Kuntzman some deck time. The DDJ-RR worked out ok and the setup was slightly awkward due to the folks walking on behind us and having an "oh wait…" moment. All in all, i think with some tweaking on setup, it could be a slide in and bang it out type gig which are hard to come by. Here is a small pic of sometime at the event. (*note to self: take more pics). They do have screen that I think are hooked to a video system so maybe we can work a dvd screener of the event and maybe some cool graphics to rotate during the show…who knows?!?!?  The best part of all this is that Canvas is in midtown (practically across from where the Full Moon used to be) Right where we like it.
Brian Hamilton and company do the third Sat (Soul in the City) there with plenty of house to please so we alternate as the techno group two weeks out. Hopefully you'll check us out on the 3rd – If you came by and love the music, let us know in the comments and feel free to check out the event page on facebook and by all means, share.