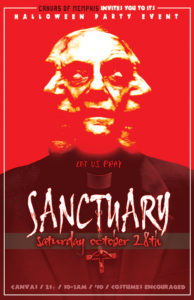 As luck would have it, just when you think you are going to have a quiet laid back Halloween holiday, up pops a multiple gig month with some unlikely gigs. I was pleasantly surprised to get a call from Mr Hodges for a old school ish pre-Halloween get together on the 20th at Murphy's. I helped by providing sound and lighting as well as securing a spot on the bill. Thinking that was going to be my October schedule, two more gigs pop up all with a side gig for a friend. Turns out the month filled up all within a week or two and during the month which is strange as well. Busy busy.
Now that two of them are under the belt, the next will be coming up on Saturday. This one will be the one I get to do with creative freedom. I get to pull out all the décor and deck the place out. I'm even going to bust out the dry fog machine. Whoop! The best thing about doing the decoration at Canvas (event titled: Sanctuary) is that the décor was meant for a much bigger joint. Plenty of items to fill the place up with. Giant ghosts, Dracula and Wolfman, as well as enough creepy cloth to choke a skeleton. This one should be a fun joint for sure. Although the city will be ablaze with parties on every street corner, i'm counting on the fact that folks know I bring the Halloween A-Game. Crystal Method is going to take up a number of old-schoolers but i'm hoping most aren't going to want to venture the downtown trip and instead, park it at Canvas… who wants to deal with that madness anyways, especially on a holiday party night.
The next and final October gig is our return to Mollie's for Halloween Night. It's been 5 years since we put on a show there. Although D and I parted ways, the party continued after we left and has been a steady go-to for Halloween Night proper and that makes me proud. Especially when it's on a weeknight, the crowd tends to be a bit insane. Let's hope Doug and crew have keep the home fires burning since they will be handling the décor and atmosphere and all we need to do is bring the party and that we will, guaranteed! Matter of fact, we have a little something special up our proverbial sleeves for the night. It should make for a screaming good time! Muahahahaha… See you all there!